Welcome to Mt. Crested Butte
The town of Mt. Crested Butte is nestled among the breathtaking Elk Mountains in western Colorado. Sitting at 9,375 feet above sea level, Mt. Crested Butte is home to around 800 year-round and part-time residents. Our namesake mountain rises just above town to a height of 12,162 feet. This unique setting affords some of the most breathtaking vistas in Colorado.

Located within Gunnison County, Mt. Crested Butte is located 31 miles north of the city of Gunnison, Colorado, on Highway 135, and just two miles north of the town of Crested Butte.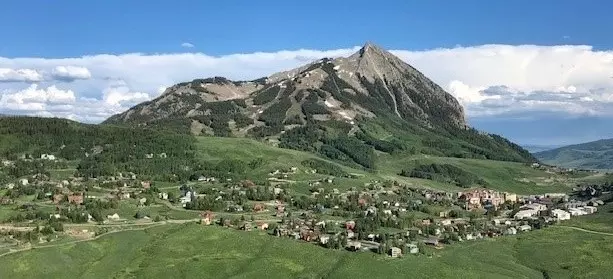 The Mt. Crested Butte E-bike Rebate Program is a sustainability initiative that aims to promote the use of e-bikes as a means of transportation. The program offers a rebate to Mt. Crested Butte residents who purchase an e-bike with the goal of reducing traffic congestion and promoting environmentally friendly transportation options.
The Town of Mt. Crested Butte would like to notify the general public and residents of Mt.
The town of Mt. Crested Butte will host its annual 4th of July Celebration & Fireworks on Tuesday, July 4, 2023, at the Red Lady Stage within the CBMR Base Area from 4 pm until dark when the fireworks start.   This free community event features children's activities, laser show, fireworks, and live music!
The Town of Mt. Crested Butte's Community Cleanup will be held on Saturday, June 10, 2023.  We are looking for volunteers to help clean up our beautiful town from 10 a.m. to noon! Free lunch will be served at noon, and local business gift cards provided to volunteers.    
https://mtcrestedbuttecolorado.civicweb.net/Portal/
https://mtcrestedbuttecolorado.civicweb.net/Portal/