Welcome to Mt. Crested Butte
The town of Mt. Crested Butte is nestled among the breathtaking Elk Mountains in western Colorado. Sitting at 9,375 feet above sea level, Mt. Crested Butte is home to around 800 year-round and part-time residents. Our namesake mountain rises just above town to a height of 12,162 feet. This unique setting affords some of the most breathtaking vistas in Colorado.

Located within Gunnison County, Mt. Crested Butte is located 31 miles north of the city of Gunnison, Colorado, on Highway 135, and just two miles north of the town of Crested Butte.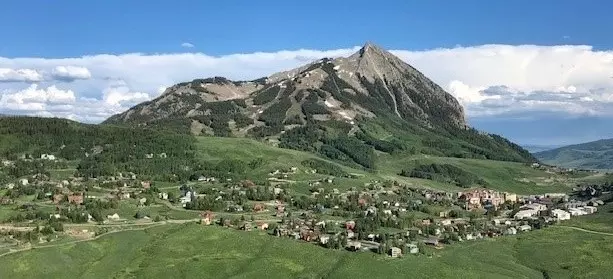 Gunnison County is under a Stage 1 Fire Restriction, effective 12:01 am, Wednesday, June 15, 2022. 
LIVE! From Mt. CB Summer Series – Wednesdays at 5:30 pm (6/29-8/17)  
The Town of Mt. Crested Butte is launching a recalibration of the draft master plan. To ensure a community-driven process, the town will have several engagement opportunities for our stakeholders, boards, and the public.
Wednesday, June 29, 2022 - 5:30 pm - 7:30 pm
Enjoy free live music, food and fun for all ages at the Red Lady Stage at Crested Butte Mountain Resort starting at 5:30 pm on Wednesdays this summer!
Monday, July 4, 2022 - 4:30 pm - 6:00 pm
Monday, July 4, 2022 - 7:00 pm - 10:00 pm
LASER SHOW & LIVE DJ This year we're celebrating independence with an environmentally conscious and sustainable laser light show and DJ. The DJ will play from 7 pm to 10 pm and the laser show will start at 9 pm.